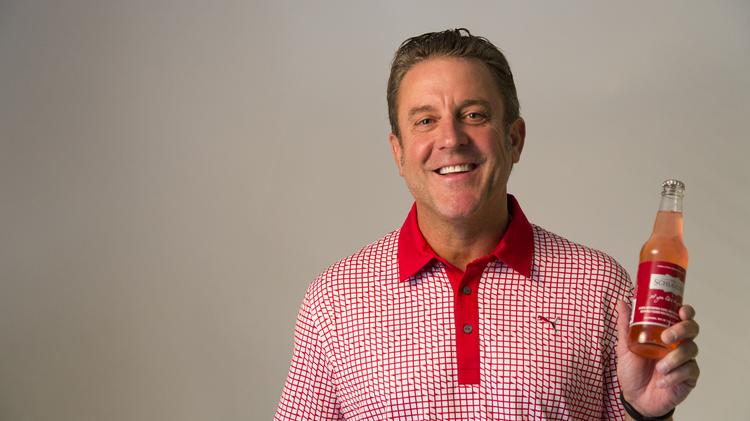 A new Louisville-crafted alcoholic drink, The Schiavone, made its debut this month. The vodka-based bottled drink currently is sold only at Prospect Party Center, located on U.S. 42 near River Road. The beverage was created 12 years ago by Louisvillian Bob Schiavone, human capital manager at business outsourcing company ADP LLC and an investor in Sterling Beer Co.

The avid golfer, told Louisville Business First that he was in New York City on a golf trip more than a decade ago and had a mixture of vodka, Fresca and orange juice. He liked it, but in the hot sun, the orange juice hit his stomach the wrong way.
When he returned to Louisville, Schiavone worked with a bartender at Hunting Creek Country Club, where he was a member, to create a lighter, more refreshing drink made with cranberry juice, Fresca, lime and vodka, he said.
And he decided to call it The Schiavone. "I guess it's arrogance at its best," he said of the name.
For years, friends and other Hunting Creek Country Club members have been drinking The Schiavone. After a push from a friend, Schiavone said, he started working with Louisville-based beverage experts at Flavorman in October 2013 to hone the taste.
One important step was for the chemists at Flavorman to create their own twist on Fresca, a citrus soft drink made and sold by The Coca-Cola Co., so as not to infringe on Coca-Cola's product rights.
"That was the hardest thing we had to do," Schiavone said, who described the entire process as smooth but long.
Schiavone said he wouldn't have moved from just an idea to completed bottled drinks as smoothly without the help of Larry DeAngelis, president of Millenia Corp., a beverage branding company in Louisville. DeAngelis advised him about packaging, state and federal liquor regulations and trademarking, among other things.
By August 2014, Schiavone and Flavorman workers found a combination of flavors that they like and Schiavone hosted a tasting party at his house for 75 to 100 people. He asked attendees to taste the bottled version and a free pour version of The Schiavone, like a customer would order at a bar.
"The bottle came out and won," Schiavone said, and that's when he knew the recipe was right.
Now, about 18 months after the process began, Schiavone has a distribution partner, River City Distributing Inc., and his creation is on the shelves in Prospect Party Center.
He, along with a silent partner and the distribution company, are working to get the bottled drinks into more independently owned stores in Louisville's East End. From there, Schiavone said, he'd like to expand to the Highlands, Clifton and the areas surrounding the University of Louisville.
Schiavone plans to continue working for ADP but dedicates his free time after hours and on weekends to promoting his drink.
The Schiavone is 10 percent alcohol by volume and is sold in packs of four 12-ounce bottles for $13.99. Schiavone said the price is expected to decline as more businesses start selling The Schiavone.
He declined to say what the startup costs were other than that he and his partner invested six figures.
"It's a dream that I wanted to see if we could get it to go," he said, "and I think it will."
A version of this story was originally authored and published by Caitlin Bowling of Louisville Business First.
When you're ready to talk about your beverage idea, give us a call at (502) 273-5214 or get started by telling us your story here. To learn more about Flavorman, see our process.
Related Content
Joe Knows How to Go Big: Advice for Beverage Entrepreneurs